Scott E. Wrestling's WrestleMania Weekend Diary – Day 2

The WrestleMania Weekend Diary is back for day two. I'm to finish up all the shows from day one that I missed and then will to what is a stacked day with ROH Supercard of Honor being the best treat of all.
Friday: 1:45 a.m.
It's late (early). But I want to watch wrestling so that's exactly what I am going to do.
Now Watching: AAA: Invades WrestleCon (Not live)
I will be watching the last two matches of this show. Love me some Lucha Libre.
LUCHA LUCHA LUCHA (this is not a Kalisto reference, though he did not show up).
Bandido is probably my second favorite Lucha star right now. Shout out to Dragon Lee who I wish was on these shows.
Laredo Kid vs. Bandido vs. Flamita was the Lucha action I was looking for. The pace was out of this world and the moves were just as jaw-dropping as you'd want. I think my one request would be it getting some more time but they are sprinting this weekend so it's all good. Worth checking out if you enjoy Lucha!
Psycho Clown and Black Taurus better steal the show here and based on the time it took me to type this, they should.
We have crossed the 2:00 a.m mark. Need caffeine. Please send caffeine.
I started to nod off midway through the match so I had to restart because it has been very good.
Psycho Clown is cool. Black Taurus is cool. And I am not so cool if being tired isn't cool. It took me a restart but once I got to witness it from start to finish, it delivered. The finish of a Top Rope Hurricanrana finished off with a Spear through the table was a fun way to end the match.
It's Karen Jarrett! Oh and Jeff Jarrett too. I did indeed try to wipe my eyes because I did not expect this to end the AAA show but here we are. Poor Psycho Clown.
I'm ready to watch another match! Let's go! Zzzzzzzzzzzzzzzz.
Friday: 10:00 a.m.
Had a nice little nap there called sleep. Woke up refreshed so let's get to work! I'm really excited to watch the Mark Hitchcock Memorial SuperShow from last night but will watch the GCW World Championship match from Spring Break first because Jon Moxley was already great once yesterday so why not twice?
Now Watching: Jon Moxley vs. AJ Gray from Joey Janela's Spring Break 6 Part 1
I like Moxley's shirt.
Current Cody tracker: Starting to lead towards no. Not feeling great about it. Not sure why.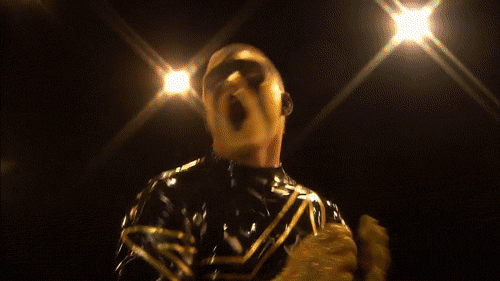 The GCW commentary is not very good. It's a big reason I don't watch these shows throughout the year as much. Not to name names or anything…
We are about seven minutes into this match and I have zero thoughts. Not ideal.
Zero… none… zilch…
Alright, Moxley got speared by Gray through a door so maybe there's some life to this match. Or not because it feels like slow motion at the moment.
After about 10 minutes, the next big spot was Gray jumping off a ladder through Moxley who was laying on another door. The match isn't great because it feels like it has no energy to it. Not dramatic, not a blood feud (there is blood), just two guys fighting in a match that needs all of that behind it.
Yay… it's over. Moving on. Happy Moxley won.
Now Watching: WrestleCon Mark Hitchcock Memorial SuperShow (Not live)
This is already the show of the day. Ian Riccaboni is on the call with Veda Scott and they're kicking off with "Speedball" vs. Bandido. Sweeeeeeeeeet!
🤩🤩 WHAT A WAY TO OPEN #WRESTLECON's Mark Hitchcock Memorial Supershow!@bandidowrestler battles @SpeedballBailey RIGHT NOW ON #FITE!

Streaming LIVE

👉 https://t.co/Jg5GdMaBcx@wrestlecon #WrestleMania #Wrestling pic.twitter.com/yOuqW3R8IT

— FITE (@FiteTV) April 1, 2022
SPEEDBALLLLLLLL!!! The Moonsault to Bandido on the outside is a thing of beauty.
CHOPS! I live for these trade-offs. They are always great.
Bandido just held Mike Bailey in the air for an entire minute in the Suplex position before dropping him and may I say it was impressive!
These two have been out of their minds. Dives, chops, kicks — all fantastic thus far and we are only getting to the closing stretch.
The Pop-Up Cutter on the apron made me gasp in my chair — my goodness what a spot.
What a match. Absolutely fantastic and the match of the weekend so far. Bailey and Bandido left it all out there as if they were fighting for a world championship or in the main event. Instead, they kicked off this show and it will be hard for anyone to follow up. A must-watch for anyone.
(If you want to check out all my star ratings, I have a running documment. )
BRET!!!!!!!!!!!!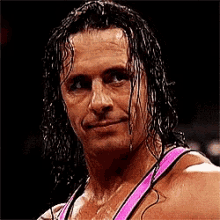 I'm super happy for Mia Yim. She hasn't wrestled in forever and she got the great reaction she deserves. Got some high hopes for this match against Athena. Let's see these two a lot more very soon.
The whole referee and chair thing is whatever but overall it was a solid return match for Mia Yim. It's interesting Athena is going for the heel role on the indies. In time, I think Yim can be a big get for whoever wants to go get her. Happy to see her back.
Fun fact: I'm not as big a Tomohiro Ishii fan as most NJPW fans are. He fits his role and that's perfectly okay. Didn't need to be a world champion. You're welcome.
Good match. It's time for lunch so a break in the show. What should I go with? What's wrestling lunch food? Sandwich? Soup?
Friday: 1:50 p.m.
We're back to this WrestleCon show. The trios match will be our starting point because the team of Josh Alexander, Black Taurus, and Ace Austin is a wild combination. It's cool to see Michael Oku as part of the festivities.
I just read Austin re-signed with IMPACT Wrestling so my hope is they give him the IMPACT World Championship in the next year or so. Has been their brightest star for a few years now. Seems destined for greatness and he's only 25!
The Triple Half Crab spot was not my cup of tea.
This match, overall, is indeed my cup of tea though. Crazy spots nonstop. Exactly what it should be!
Yeah, it rocked. Not to the levels of the opener from this show but just so much fun. Team IMPACT was really good working together as well as Oku working with the Lucha stars. Nothing I can say other than check it out!
BIFF RULES!
Everything about this is impressive seeing Biff Busick had the match he did with Jon Moxley a few hours earlier. Also, Biff is perfect for the new ROH if they ever wanted him.
Current Cody tracker: I'm a dashing 50-50 at best.
It was a solid match between Biff and Minoru Suzuki, especially only a handful of hours removed from their previous wars at Bloodsport. Busick is right behind Bailey for me as the MVP this weekend through one and a half days. I heart Suzuki.
I will not be watching this Team Onita vs. Team PCO match but these surprises making up each team are hilarious and great; nZo, Dirty Dango, Jimmy Yang, The Rock 'n' Roll Express, Barry Horowitz, Juice Robinson (love it, miss him in NJPW), and Colt Cabana. What a crew.
I did catch Dango and Summer Rae dancing together one more time and I'm not ashamed to say it was lovely.
Going to ignore the pre-match nonsense for this main event. As should all of us. It's the Briscoes vs the Rottweilers.
The main event was… underwhelming. Overall a solid show and a current favorite for the show of the weekend. I'm sure that won't last.
Was trying to decide what to watch next and saw last night's IMPACT TV main event so ding ding ding, we have a winner.

Now Watching: Jay White & Chris Bey vs. The Motor City Machine Guns from IMPACT on AXS TV (Not live)
This was as good as I hoped it would be. Didn't have much to comment on during the match because I was locked in (aka I had to watch it on my laptop). Jay White has been putting it together on IMPACT and all of his work against MCMG has been his best.
Now Watching: Jack Cartwheel vs. Alec Price from LA Fights vs. JCW (Not live)
Big time fan of Alec Price. All of his matches are becoming a must-watch for me and this is no different. If it can be anywhere close to his match with "Speedball" from the weekend then we are GOLDEN.
The match was ultimately a good showcase for both young stars. It's my first time seeing Jack Cartwheel and his athleticism will bring him places. Price shined even in defeat. Hope he makes some fans with all the matches he is doing this weekend.
Welp… I'm all caught up until NJPW LoneStar Shootout in terms of WrestleMania Weekend stuff so I guess I will dig to find something before I head off for a bit.
Found something!
Now Watching: Noam Dar vs. Mark Coffey from NXT UK (Not live)
As a big fan of the Heritage Cup and the style matches they provide, this one should be pretty good.
Round 1: Nothing happened. At all. Minimal wrestling.
Round 2: Small Package by Dar for the pinfall. Again — not much here. Sad.
Round 3: That's what I'm talking about. Coffey brought it to Dar and made for the best round by a lot.
Round 4: Great round. The Knee Bar at the end by Dar likely plays into the finish which makes the Heritage Cup rules so good
Update: It didn't.
Round 5: A Sha Samuels run-in pretty much solidified Dar winning the match.
Overall, it was fine. Not the best Heritage Cup match but not the worst either. We move on.
It's time to take a break. Maybe even a bathroom break. I'm really looking forward to LoneStar Shootout and Supercard of Honor. I'll do my best to watch live if I have the time. Will be unspoiled so my reactions will be as real as they get on here.
Friday: 6:00 p.m.
Alrighty, we are here for NJPW LoneStar Shootout — or at least the first hour or so. Looks like a great show.
Now Watching: NJPW LoneStar Shootout (LIVE)
Ren Narita has been ready for a while now. I hope he's nearing the end of his excursion.
Big win for Narita! The match was well-paced and a good start to this show. I think Rocky Romero is such a great professional and is always a great bet to give a solid match. Narita's wins are adding up and I AM NOTICING!!!
Missed the tag match so I will go back later. Maybe.
I haven't watched Killer Kross wrestle since he left WWE. Intrigued to see how he looks against Suzuki — a good proving ground I'd say.
Thought the match was good for the time it had. Kross looked solid in there trading chops with Suzuki and I was shocked Kross didn't get the win. I'm sure he will be a part of NJPW STRONG moving forward. If he wrestles like that, it's welcome.
MOX!!!!
Good promo to sell a match that… didn't need more selling? Moxley vs. Will Ospreay can be one of the best matches this year.
Now watching "Speedball" vs. "Switchblade" and it's the match I was most looking forward to on this card anyways.
Jay White is so good. Some people don't enjoy how he slows it down but he lets the story of the match be told. It's not all about moves but the substance those moves carry. I watched Bailey have a great match with Bandido which was ALL moves and action. Completely different fight today but so far, just as good.
It was another great match this weekend for Mike Bailey. He and White went out there and stole the show. It's one everyone should go watch because "King Switch" is a master in the ring and has found his groove again. The US of Jay is giving him life and Bailey showed he should be considered for STRONG moving forward.
Main event time! Chris Dickinson vs. Tomohiro Ishii should be excellent. I guess I'm watching most of this show live after all!
Hard-hitting as you'd expect. Dickinson is loving every second of this too. Two nights and his opponents have been Minoru Suzuki and Tomohiro Ishii. Taxing.
It was a great match to close out this show. Dickinson gave all of his heart. It wasn't enough to get the victory against Ishii but if he didn't make some fans tonight then I'm not sure what those people are watching. Two matches to go out of your way to see from this show.
Need to run for dinner and maybe empty my bladder, but can't wait to catch Supercard of Honor.
Friday: 10:00 p.m.
Time to do this, Ring of Honor! Will have the WWE Hall of Fame on in the background too so when Scott Steiner speaks I will listen.
Now Watching: ROH Supercard of Honor (Not live)
Starting with Zero Hour mostly because Tully Blanchard seemingly starts his new faction tonight. Let's go!
What happened with Blake Christian wrestling on the NJPW show against JONAH? Anyone?
Boom Boom! Colt Cabana getting the first win in the new era of ROH is both funny to think about and also really cool. As much as things change, the more they stay the same. Christian looked pretty good and has in all his post-WWE matches.
Miranda Alize was such a standout in the ROH Women's Championship tournament. Happy to see her get on this PPV in some way.
Pause — it's Steiner time.
Okay well, he talked about cows so that was worth it. Back to the match.
Best ROH crowd in a long time — shocking, I know.
I'm always here for the Shooting Star Press. AQA was more of a development signing so I think she will fit in well in this new ROH Women's Division. She's talented and has the makings.
Kaun and Toa Liona are a team I can get behind. Loved what Kaun had been doing in ROH prior so I'm happy he is sticking around. Tully Blanchard Enterprises is off to a fantastic start.
Impressive. The match wasn't all that much in terms of quality but it achieved its goal. Kaun and Toa are a fresh addition.
Remember when Dalton Castle was popular? It's when Cody Rhodes was ROH World Champion. Cody is now (probably) heading to WWE. Wild world. Wait, is that a current Cody tracker? Am I flipping?
My head is on a swivel. HOF update – I'm happy to see JTG at the Hall of Fame.
The match was long. The match was okay. There's my take of the night. Moving on to the main card!
FTR has been on another level since the shift to good guys because you can tell they are great guys. Them vs. The Briscoes is my prediction for the match of the night and weekend.
ROH IS BACK AND IT FEELS SO GOOD!
SWERVE!!! One of my favorite wrestlers in the world today.
Pausing for Undertaker's induction.
What an all-timer by the Undertaker. Now back to ROH to finish out day two.
Swerve just gets it. Few have the swagger and ability he carries every single match. He makes everything feel important.
HOLY #$%& is right! What an insane Poisonrana. I winced in my chair my goodness.
The poison 'rana to the floor by @AlexZayneSauce flattens @swerveconfident! #ROH #SupercardofHonor is on @FiteTV, #HonorClub & @ppv_com! pic.twitter.com/mv0pXjVTRe

— ROH Wrestling (@ringofhonor) April 2, 2022
They were off with one another at the start of the match but once it got going, they did too. Swerve gets the big win of Alex Zayne in what is the official first match of this new era when it comes to main cards. If that is a sign of things to come then, buckle up. Very good start.
Ninja Mack, I'm looking at you. I know what your face looks like, bruh.
"I'M A MACHINE." — Brian Cage, probably.
This is a good spot for Cage moving forward if he is indeed Tully's main guy and in ROH.
Thanks for coming, Ninja Mack. About as good of a reintroduction for Cage as you can think of. Pairing him with Kaun and Toa is a trio that you cannot match. Boy oh boy.
I would love a Lee Moriarty upset here.
Everything about this match helped make Moriarty. Every single near fall at the end of the match showed the fans wanted the win. Only reason he didn't is because Lethal cheated, making it a job well done from start to finish. Even with Moriarty's leg injury, he was so close to getting the win. It's as qualify of a match as you'd imagine from these two. Lethal is an easy guy to boo moving forward and Moriarty is a star in the making.
Willow Nightingale has a bright future from all I've ever read or the limited amount I've seen. Hope she shines here vs. Mercedes.
There was a great near fall on the OG Drop.
It certainly wasn't perfect but overall the match, much like the previous, worked with the veteran vs. the up-and-comer story. In the end, Martinez always felt like the obvious winner to be interim champion but a brave and valiant effort by Nightingale will go such a long way in her rise.
TAG TITLE MATCH HERE WE GO!!!!!
FTR's theme song is so good.
It's the BIGGEST OF BIG FIGHT FEELS.
FTR's gear is the *chef's kiss*.
SUPLEX TO THE FLOOR OH MY GOD WHAT A MATCH!
TAG TEAM MATCH OF THE YEAR! Hell, it might be the MATCH OF THE YEAR when's it is all said and done. When you meet high expectations all you can say is bravo. FTR and The Briscoes showed up and did exactly what all the fans were hoping for and it was giving us a phenomenal tag team match. From beginning to end I was speechless. Near falls, jaw-dropping maneuvers, and just two world-class teams giving us what wrestling is all about. Tag team wrestling can be as good as any big singles world title match and they confirmed it. No one is topping this all weekend long. Sorry.
YOUNG BUCKS!!! RUN IT BACK BABY LET'S GO I'M SO HAPPY!!! Bucks vs. Briscoes once again! Give it all to me.
That's what pro wrestling is all about. I am buzzing.
Currently my MOTY. https://t.co/PEDyprbHnf

— Scott E. Wrestling (@ScottEWrestling) April 2, 2022
KAZE NI NARE!!!!!!!!!!!!
MINORU SUZUKI IS ROH TELEVISION CHAMPION! WHAT IS THIS SHOW? The new ROH era is off to a hot start. The match was good for what it was but Suzuki has a belt so we all win!
I'm gassed and we still have two matches left. Bruh. Need caffeine. Please send caffeine.
Pure rules are not my favorite. So few wrestlers I feel can work the match style well.
YUTES! Wheeler Yuta as the Pure Champion is what I can get behind. The bout was pretty good and was the best Josh Woods-Pure Championship match of his reign. So much change in one night but it's been a wonderful night.
Seeing ROH do these AEW previews is wild.
It's time for the main event!
Bandido throwing out his own manager is new.
Ultimately a great main event to decide the one true world champion. The only minus to this match is the result never felt to be in doubt so there was limited drama there for me. Jonathan Gresham is best when he is wrestling not strictly Pure rules but every style really. There was a fantastic closing sequence between Gresham and Bandido which concluded the second-best match of the night and one of the best from this weekend.
Yay… Lethal again…
SAMOA JOE IS ALL ELITE AFTER SHOWING UP AT ROH SUPERCARD OF HONOR 😱

(via @ringofhonor)pic.twitter.com/v3Y6wkW0tR

— B/R Wrestling (@BRWrestling) April 2, 2022
JOE JOE JOE JOE JOE JOE JOE JOE JOE JOE JOE JOE JOE JOE JOE JOE JOE JOE JOE JOE JOE JOE JOE JOE JOE JOE JOE JOE JOE JOE JOE JOE JOE JOE JOE JOE JOE JOE JOE JOE JOE JOE JOE JOE JOE JOE JOE JOE JOE JOE JOE JOE JOE JOE JOE JOE JOE JOE JOE JOE JOE JOE JOE JOE JOE JOE JOE JOE JOE JOE JOE JOE JOE JOE JOE JOE JOE JOE JOE JOE JOE JOE JOE JOE JOE JOE JOE JOE JOE JOE JOE JOE JOE JOE JOE JOE JOE JOE JOE JOE JOE JOEJOE JOE JOE JOE JOE JOE!!!!!!
What a night. Samoa Joe being back in professional wrestling fills the heart.
Make sure you check out my star ratings if you like. Good night. Time for bed. See you tomorrow.