Five Star Joshi || Starlight Kid and AZM put the world on notice
Welcome! This is a weekly insight into the world of joshi pro wrestling, discussing the shows, the best matches to watch, what wrestler(s) stood out, and a look ahead at what's to come. It goes hand-in-hand with the Five Star Joshi Podcast, which you can listen to every Friday on Fight Game Media Network +!
---
THOUGHTS OF THE WEEK
Stardom cannot miss right now. Even when you expect them to miss or not put on a show that can be considered "A-level," they prove you wrong. That's what they did this week with Cinderella Journey. On paper, it was nothing too special outside of two matches on paper. Mayu Iwatani, Tam Nakano, Utami Hayashishita, Giulia, and Syuri were all in tag matches with no real stakes. That's the beauty of the roster Stardom has constructed. They didn't need their major stars to be the ones at the top for this show to deliver. All they needed was to believe in their talent and they did the rest of the work. The semi-main event between Starlight Kid and AZM was one of the best high-speed matches you will ever see. The main event solidified that Saya Kamitani is ready for anything Stardom throws at her.
If you are going to go out of your way to watch anything from Cinderella Journey, it is the final two matches of the night. They powered the show to what should be called one of Stardom's most impressive nights to date. You'll be better for it, truthfully. Kid and AZM told a story while Kamitani and Natsupoi channeled the greatness of a big-time main event. Donna del Mondo's trios match captured what should be a tremendous battle between Syuri and Giulia for the World of Stardom Championship at Stardom World Climax. Oh, and if this isn't enough for you, KAIRI laid down a challenge to Starlight Kid earlier in the week for a singles match at that very event. Start watching Stardom now before it is too late. They're just getting started.
MATCH OF THE WEEK: Starlight Kid vs. AZM (Stardom Cinderella Journey, 2/24/22)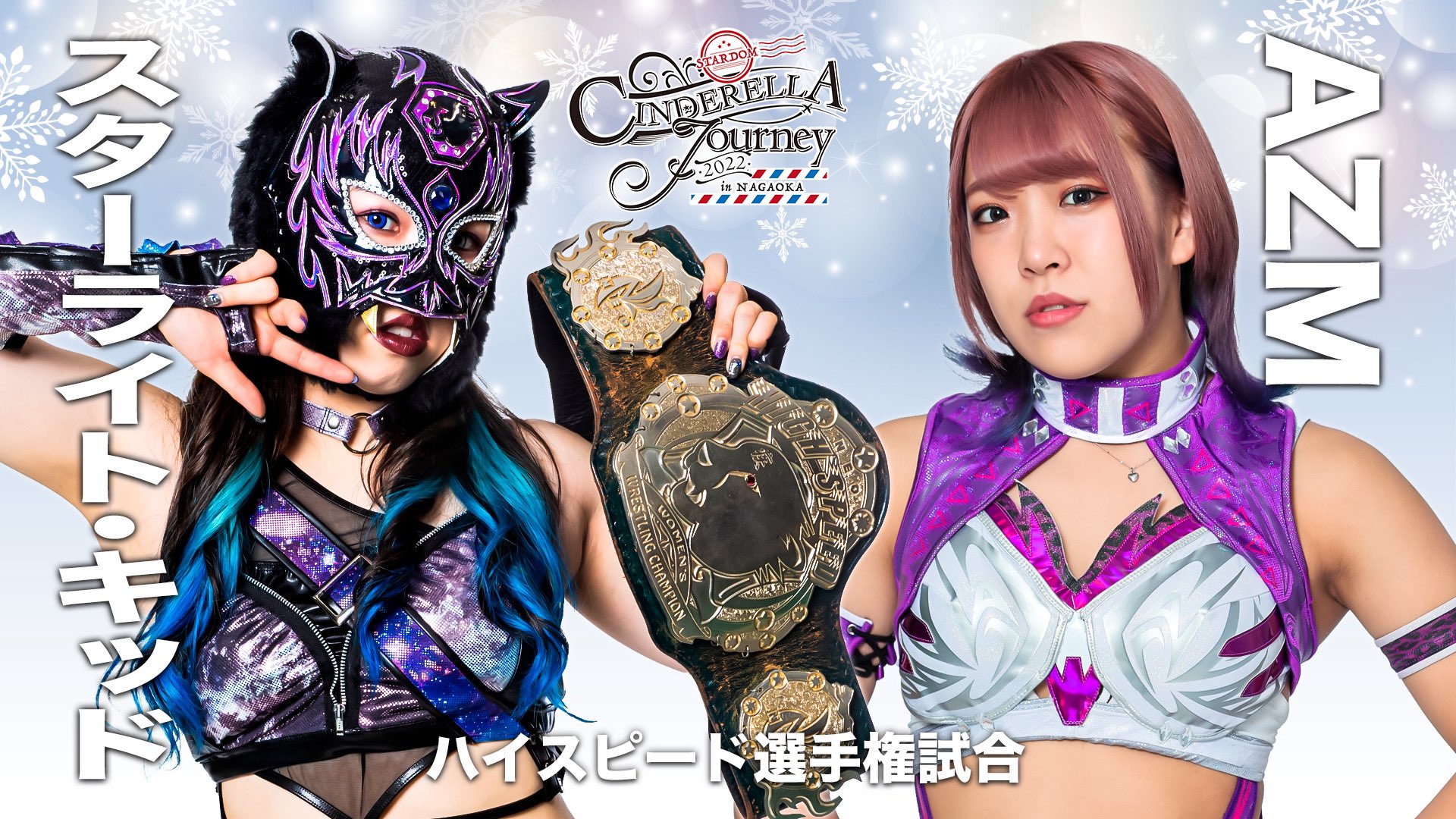 The praise this match is receiving is no joke. I have personally been singing the praises of it since it ended, fully considering it to be the best high-speed match I have seen and the best of both their careers to this point. The story of Starlight Kid and AZM is that these two were born to be rivals. Coming into Stardom at such a young age, these two have been attached at the hip and have been wrestling forever already. Funny, seeing that Kid and AZM aren't even a combined 40 years of age. But when this match specifically was made, it became apparent that this was different. After all, it was Kid who brought Momo Watanabe, AZM's former partner and friend, to Oedo Tai by getting her to turn on Queen's Quest. That made this more personal than ever. And they played to that.
When two wrestlers can mix the pace of a high-speed match with the drama that needs to be told in a feud so serious as this one, you know that they are special together. AZM was on her game to the point where Kid started to have no answers. One of the best moments in the match was when Starlight Kid hit the Avalanche Spanish Fly, a move that she beat AZM with at Nagoya Supreme Fight. Instead of winning, however, AZM managed to instantly turn it into a Fujiwara Armbar even if she didn't have much left to give. There are a number of spots worth talking about but they are better to see for yourself. AZM defeated Kid with the Numero Uno, becoming High-Speed Champion once again and closing another chapter (and the best) in their generational rivalry.
Go check this out.
HONORABLE MENTIONS
Arisa Nakajima vs. Hanako Nakamori (SEAdLINNNG, 2/21/22)
Syuri, Himeka & Maika vs. Giulia, MIRAI & Thekla (Stardom Cinderella Journey, 2/24/22)
Saya Kamitani vs. Natsupoi (Stardom Cinderella Journey, 2/24/22)
JOSHI WRESTLER OF THE WEEK: Saya Kamitani (Stardom)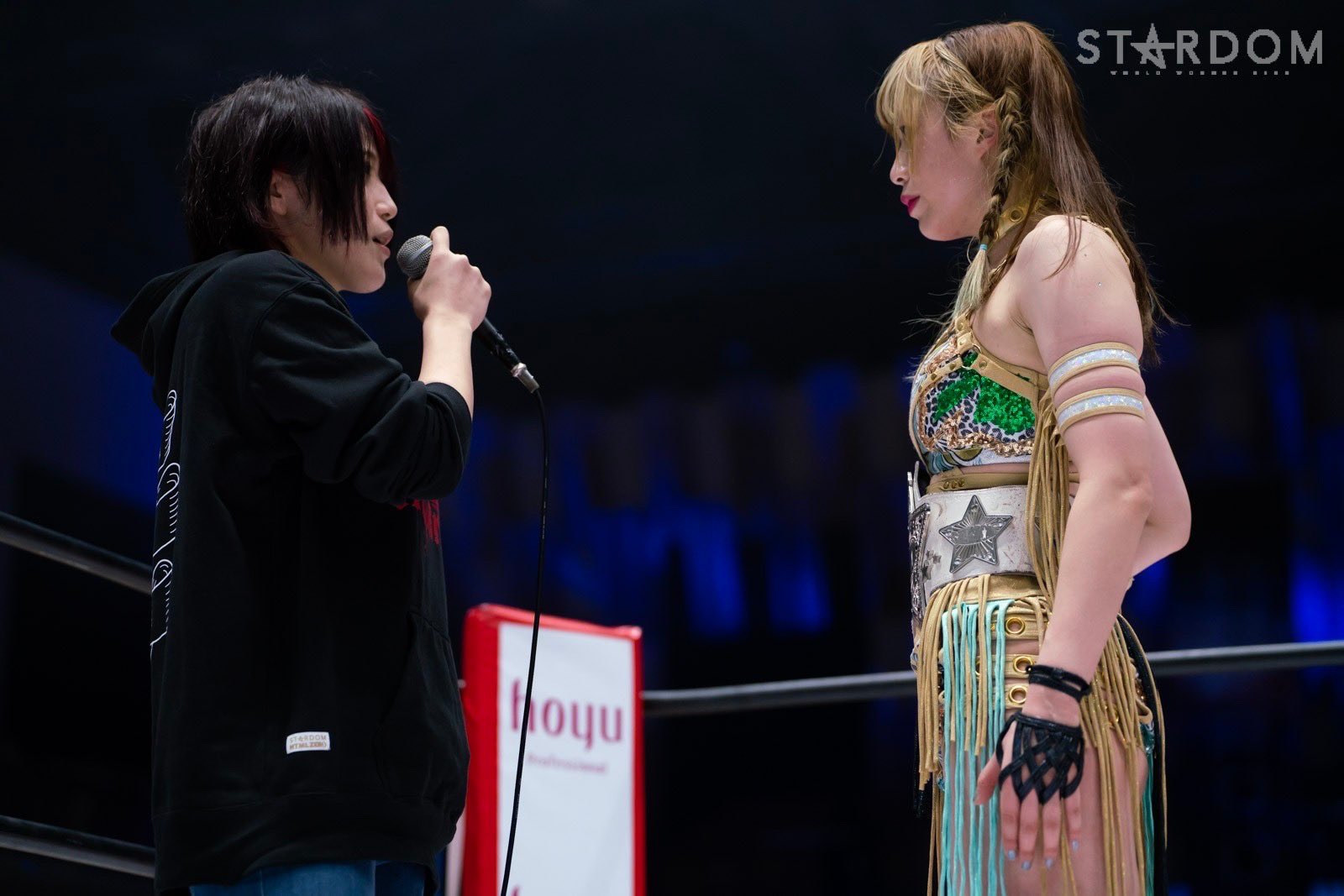 Saya Kamitani has come a long way in a year. Heading into 2021, she was someone who had the potential to be special but surely was not someone that felt ready for the big moment. Heading into 2022, Kamitani was not only ready for the big moment but was the reigning Wonder of Stardom Champion. She main evented her first pay-per-view at Cinderella Journey against Natsupoi and managed to complete one of her best performances to date. The confidence she has gained oozes out of her now. She's better for it.
Kamitani and Natsupoi had a special match in the main event of this show. There's no denying that. Kamitani won it with a picture-perfect Phoenix Splash but she almost saw it slip from her hands thanks to the Fairy Blink by Natsupoi. No fear though as Kamitani walked out with the Wonder of Stardom Championship. After the match may have earned her the "Joshi of the Week" more than anything. Kamitani laid down the challenge to Utami Hayashishita and Tam Nakano for title matches at Stardom World Climax. Daring as these are the two women that held the top titles in the promotion for the majority of 2021 but it shows how confident "The Golden Phoenix" is. It's still only the beginning for Kamitani but she is already one of the best in the world.
LOOKING AHEAD
Here's what to look forward to this week:
2/26
Ice Ribbon RE:BORN (Notable: Tsukushi Haruka vs. Maika Ozaki)