Five Star Joshi || MIRAI is ready for Syuri
Welcome! This is a weekly insight into the world of joshi pro wrestling, discussing the shows, the best matches to watch, what wrestler(s) stood out, and a look ahead at what's to come. It goes hand-in-hand with the Five Star Joshi Podcast, which you can listen to every Friday on Fight Game Media Network +!
---
THOUGHTS OF THE WEEK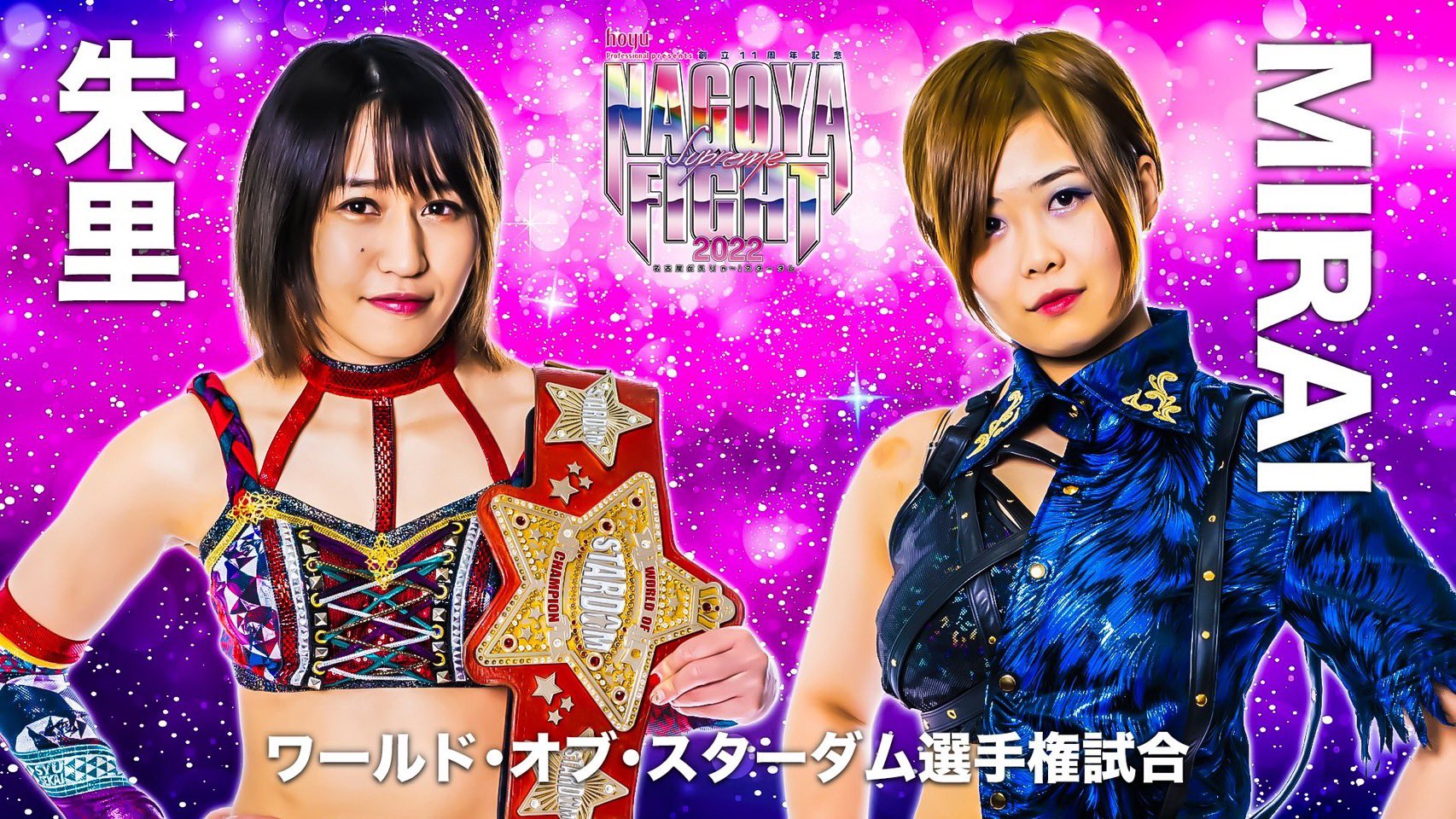 It is fight week per se in STARDOM as this Saturday will be the first PPV of the year for one of the hottest pro wrestling companies in the world. Nagoya Supreme Fight will feature the first title defenses for four different champions, including Syuri who defends the World of Stardom Championship in the main event against MIRAI. Seeing that this is not only the first defense for Syuri but the first PPV for MIRAI since joining the company earlier this month, it sure feels special. It's a card worth checking out from top to bottom though, as Mayu Iwatani, Tam Nakano, and Giulia will go to war with title shots on the line and Saya Kamitani defends her belt for the first time also. There are a lot of firsts going around, but it should be a PPV that has as many eyes on it as possible.
Here's the pay-per-view link for those who want to check it out: Nagoya Supreme Fight
The reason for writing this column isn't for personal gain but the continuous spreading of joshi to the world. Hopefully, that can be felt week after week because 2022 looks to be even more special for joshi than 2021 was.
MATCH OF THE WEEK: Maria vs. DASH Chisako (Sendai Girls Step and Go, 1/8/22)
There are times that you watch a wrestling match and they aren't necessarily the best you have ever seen but there's something about it that leaves you wanting even more. Well, that's what we have here in the singles match between Maria of Marvelous and DASH Chisako of Sendai Girls. After viewing it, I was left wanting to see these two go at it again because of how their chemistry worked for the 10 minutes that they wrestled. Maria had a certain fire behind her that she often has but it was working better than ever against the veteran in Chisako.
And DASH, bless her heart, did not want anything to do with her fervent opponent after Maria refused to shake her hand at the start of the match. Maria was trying her best to get in the head of Chisako, which ultimately drove Chisako to do what she did at the finish of the match. It potentially brought out the side of Chisako that wasn't going to be there for this exhibition.
Maria has shown she is ready for whatever spotlight she is given and while this was not her night to win, it was another where you walked away knowing she is a star in the making. Chisako had zero care of letting Maria get off easy by the end of this, however, as she hit not one but two Michinoku Drivers to Maria, dropping her headfirst into the mat for the victory. The effectiveness of this match proved that Chisako can still be dominant while Maria showed that every single one of her opponents should respect her moving forward.
HONORABLE MENTIONS
Giulia, Thekla & MIRAI vs. Momo Watanabe, Starlight Kid & Ruaka (STARDOM in Kochi, 1/22/22)
Syuri & Maika vs. Giulia & MIRAI (STARDOM in Osaka, 1/23/22)
JOSHI WRESTLER OF THE WEEK: MIRAI (STARDOM)
MIRAI is ready. She is ready to face the World of Stardom Champion Syuri. To think that at the beginning of January anyone would be confident in saying this would have been crazy but here we are. MIRAI used her opportunities this weekend to show what she's all about and why she is main eventing the first STARDOM PPV of the year. Not only did she contend with Momo Watanabe in her match on Saturday, but she matched her. Not only did she bring it to Syuri on Sunday, but she had her down and out after hitting her with an array of forearms and elbows. The confidence of MIRAI has grown each and every outing. It is perfect timing as she heads into the biggest match of her career against Syuri. And in that very match, she will thrive like never before.
LOOKING AHEAD
1/29
STARDOM Nagoya Supreme Fight (Notable: Syuri vs. MIRAI)
TJPW Max Hearts Tournament Semi-Finals (Notable: ASUKA & Yuki Kamifuku vs. Miu Watanabe & Rika Tatsumi)
2/1
STARDOM at Korakuen Hall (Notable: Starlight Kid vs. Natsupoi)