Welcome! This is a weekly insight into the world of joshi pro wrestling, discussing the shows, the best matches to watch, what wrestler(s) stood out, and a look ahead at what's to come. It goes hand-in-hand with the Five Star Joshi Podcast, which you can listen to every Friday on Fight Game Media Network +!
---
THOUGHTS OF THE WEEK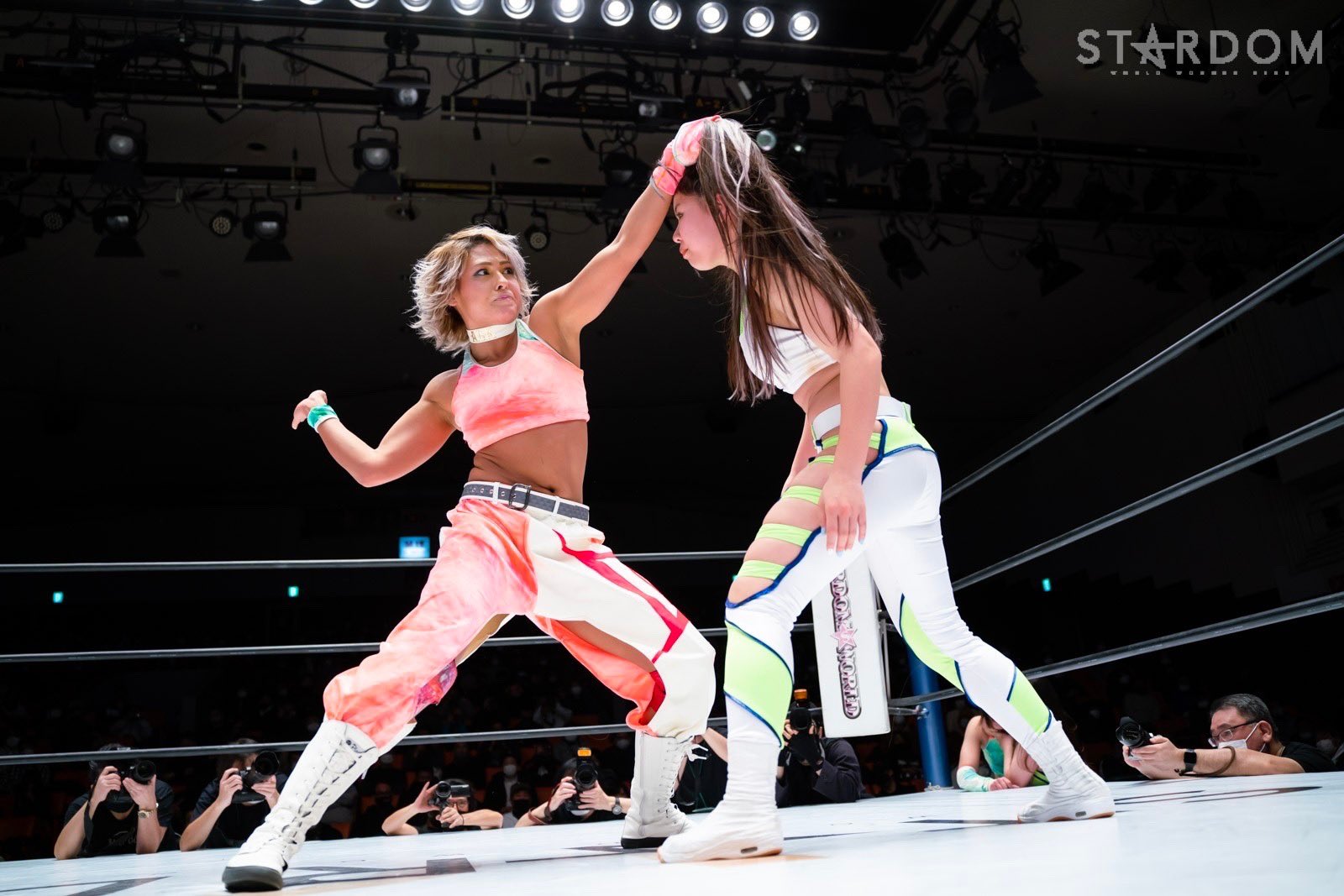 STARDOM has picked off right from where they left off in 2021, making 2022 feel like an even bigger year already. They announced their Nagoya Supreme Fight card on Tuesday and it is one to celebrate. Momo Watanabe and Utami Hayashishita take their differences to the next level. Thekla and Mina Shirakawa battling for the vacated SWA World Championship has become the funniest feud in a matter of two events. FWC will defend their tag team titles for the first time. A massive triple threat with some tricky rules between Giulia, Tam Nakano, and Mayu Iwatani will go down to decide the next two World of Stardom Championship challengers. And a main event that will see newcomer MIRAI challenge Syuri for the World of Stardom Championship. It's not the card anyone could have expected it but it's a card that brings loads of excitement to the table.
But it's not just STARDOM bringing the early joy in joshi. Every promotion has found its next step for 2022 and it makes the next couple of months as exciting as the final few months of 2021. Takumi Iroha is now the AAAW Champion and has given Marvelous a future much brighter than it was a week ago. Gold is to be defended and that means eyes will be back on the promotion. It wasn't the loudest week in terms of action outside of the Iroha win and STARDOM's shows, but it was one that should have joshi fans excited for the future. Let's jump into the best of the best from this past week.
MATCH OF THE WEEK: Giulia & Syuri (c) vs. Hazuki & Koguma for the Goddesses of Stardom Tag Team Championship (STARDOM New Years Stars, 1/9/22)
The journey to tag team glory for Hazuki and Koguma is one of the most touching stories of the year and we are only two weeks in. If you go back to this time last year, both of these women were retired and out of professional wrestling. Not a second went by where anyone thought they'd be returning to STARDOM, let alone wrestling as a whole. Yet as we sit here a year later, they are the reigning Goddesses of Stardom Champions and they managed to defeat the premier duo of Giulia and Syuri to accomplish that dream.
Korakuen Hall was rocking for this long-awaited title fight between the champions and the tag league winners. Japan is still in its clap crowd era but they made it feel as though that wasn't the case. Hazuki and Koguma had matching tag team gear and a dream to win tag team titles together. The action in the match was stellar with Hazuki and Giulia's exchanges being the shining highlight of it all. As the match went on, each competitor had their own moment that only made the match that much better. Hazuki would shock the world, though, when she would pin Giulia in the middle of the ring with a Hazukistral. 
Giulia and Syuri felt untouchable. Unbeatable. Unstoppable. But there was something special in the tag league run for FWC that made it possible for them to get this match in the first place and that "something special" led them to win the titles as well. Hazuki and Koguma have instantly become one of wrestling's best tag teams and have a great shot of becoming the tag team of the year when it's all said and done.
HONORABLE MENTIONS:
Momo Watanabe vs. AZM (STARDOM New Years Stars, 1/8/22)

Chihiro Hashimoto vs. Takumi Iroha for the AAAW Title & Tag Team Title Belt Rights (Marvelous at Korakuen Hall, 1/10/22)
JOSHI WRESTLER OF THE WEEK: Takumi Iroha (Marvelous)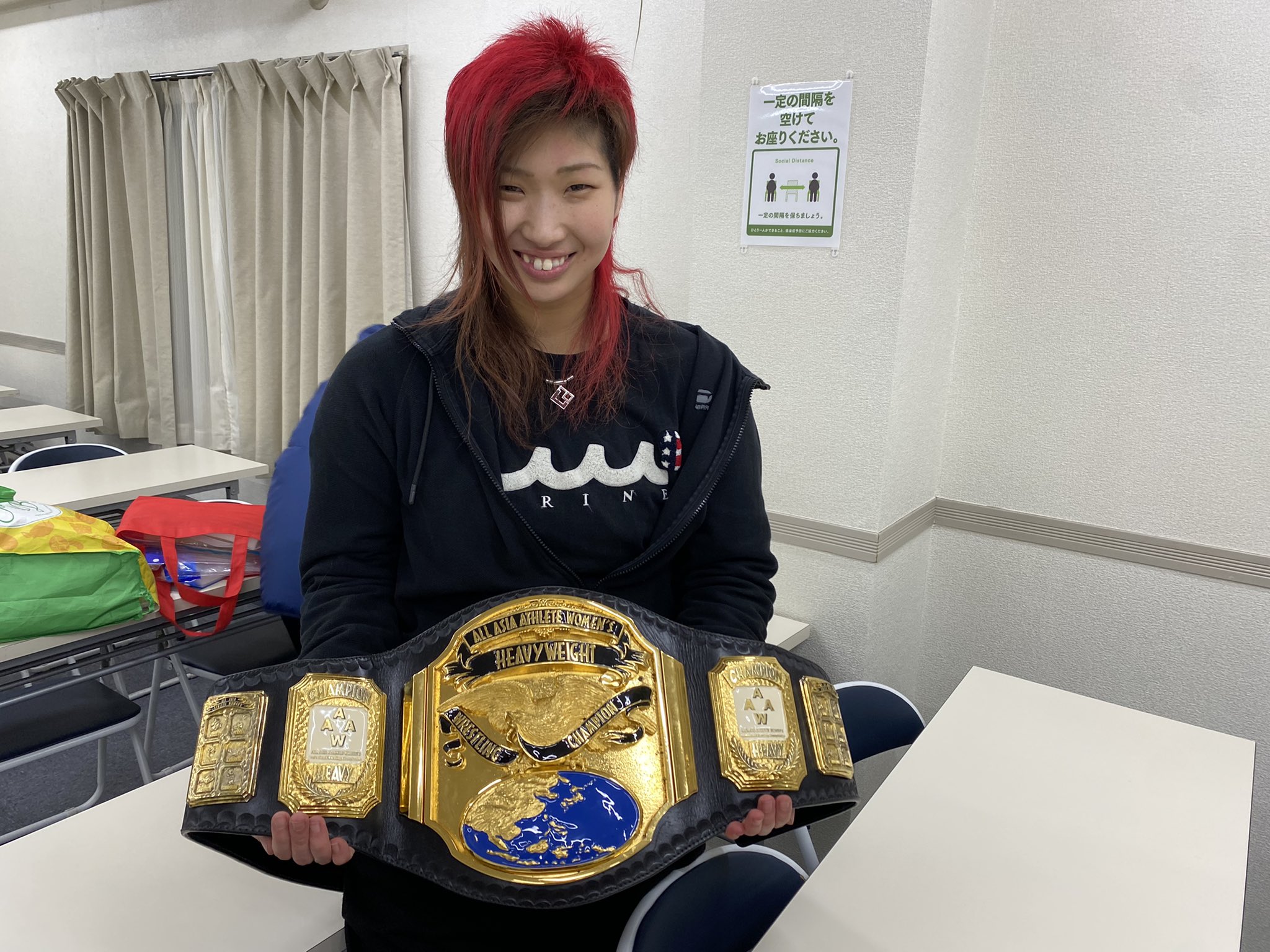 Loyalty and passion can go a long way for anyone, sometimes it just takes time. When Takumi Iroha left STARDOM to join joshi legend Chigusa Nagayo in Nagayo's promotion, Marvelous, it was almost a leap of faith. Here was someone in Iroha who was on her way to being one of the top names in STARDOM and being one of the best wrestlers in the world. But she followed her heart and became the ace of Marvelous to partner with Nagayo. Marvelous has had its ups and downs over the years, but Iroha was able to achieve a dream this past week when she defeated Chihiro Hashimoto to become the AAAW Champion. The same title that was the main title of Nagayo's GAEA Japan promotion. 
It was at the moment that the three was counted in which Iroha broke down into tears as the Marvelous roster piled on top of her with hugs and jubilation. All Iroha had was tears and fulfillment. It was the purest of pure moments in wrestling. One that if you know the story, it only makes it that much better. Marvelous is very niche for some fans but it contains some of the best wrestlers in the style. Them getting these titles means so much to them because they can now show more people what they are all about. Marvelous' roster is small but it's a family. Besides Takumi Iroha, it's the names of Mio Momono, Rin Kadokura, and Maria are four that jump off the page especially and these names should be better known by the end of 2022. 
It was a journey not many could handle like Iroha has but she finally brought gold that the promotion can make their own. Iroha captured the AAAW singles and tag team belts, now presenting an opportunity to defend such on their shows and all around Japan. It was an emotional win and moment for Iroha and one that should play a major factor for Marvelous moving forward. 
The match only made the moment better as Hashimoto is the unstoppable force of the independent joshi scene. Her main event win at GAEAISM against Team Marvelous to get the AAAW titles was notable in many ways at it seemingly retired the belts for good until Iroha got this match. Iroha's win by pulling out a modified Running Three that emulated Bobby Lashley's old Dominator finisher felt like the perfect final blow to complete a truly physical bout. 
Iroha got her moment and Marvelous has its gold. 2021 ended up being a tough year for them despite the Sendai Girls vs. Marvelous feud leading into GAEAISM. 2022 will see them come back to life. A win all around.
LOOKING AHEAD
Here's what to look forward to this week:
1/15
STARDOM in Gifu (Notable: Mayu Iwatani, Hazuki & Koguma vs. Giulia, Thekla & MIRAI)
TJPW Max Hearts Tournament (Notable: Yuka Sakazaki & Mizuki vs. Shoko Nakajima & Hyper Misao)
1/16
STARDOM in Aichi (Notable: Unagi Sayaka vs. MIRAI)
Ice Ribbon ~Winter Story~ (Notable: Tsukushi Haruka vs. Ibuki Hoshi)