Five Star Joshi || Syuri and Saya Kamitani shift Stardom's future
Welcome! This is a weekly insight into the world of joshi pro wrestling, discussing the shows, the best matches to watch, what wrestler(s) stood out, and a look ahead at what's to come. It goes hand-in-hand with the Five Star Joshi Podcast, which you can listen to every Friday on Fight Game Media Network +!
---
THOUGHTS OF THE WEEK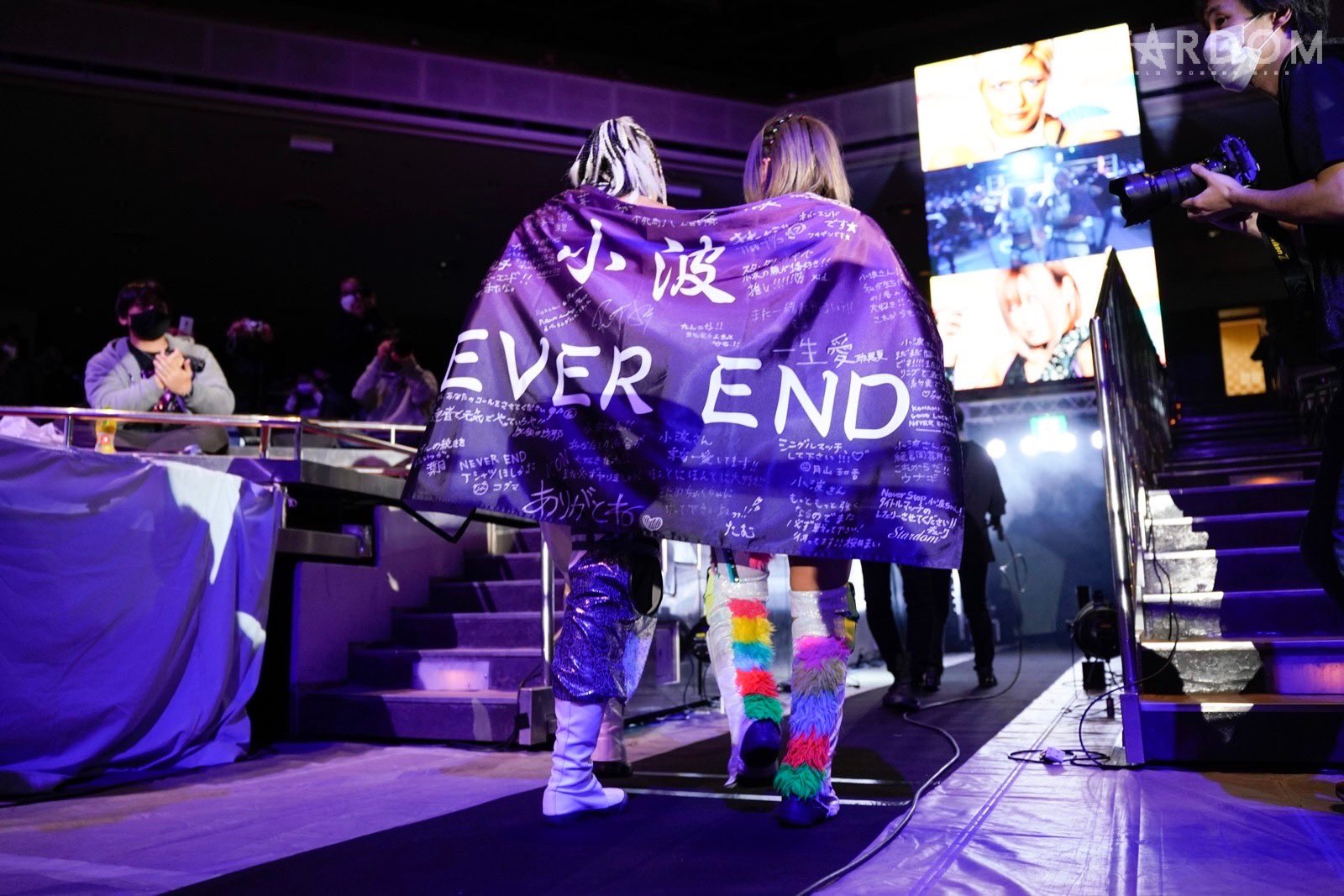 Stardom Dream Queendom lived up to the hype that I and so many others handed it as Utami Hayashishita and Syuri managed to follow their classic with another fantastic main event and the remainder of the card delivered in every single form. The beginning of the show starting off with Hanan's huge win was both a wonderful moment and an important one for the future of Stardom. Anyone who is wondering who finally fills in for Mayu Iwatani once she moves on from Stardom (don't even want to think of it), it will be Hanan who fills into that role. She's the future Ace and we saw part of that potential leak out in the most important match of her career.
Then there was the moment of Maika decimating all three Cosmic Angels members to give MaiHime Poi a successful title defense. That's one that might be overlooked in the grand scheme of things, but it's one that should be remembered just because of how great it had Maika look. Starlight Kid's successful defense in one of the best high-speed matches of the year along with AZM and Koguma is worth celebrating as well. But once we get to the four major matches of the night, that's where we really should celebrate.
Giulia and Konami provided the world with an emotional roller coaster of moments through their match. Konami, in her farewell, appeared dawning her Tokyo Cyber Squad gear while Giulia matched that with a braid reminiscent of the late Hana Kimura. They traded off in a fiery battle, tossing in more odes to Kimura with the Hydrangea and Tiger Lily that inspired all the feels to come out when watching. Giulia won her comeback match but it was the moment after where they walked out shoulder to shoulder with Konami's Never End flagged signed by the Stardom roster wrapped around them. It was perfection in a world when nothing can be perfect. The magic that Hana has to drive those who knew her never fails to amaze. She may no longer be here, but she is the light that powers both Giulia and Konami to be their best. We saw it in this match.
The tag team match that pitted Takumi Iroha and Mayu Iwatani against Hazuki and Momo Watanabe was loads of fun and really all you would expect. Watanabe getting fed up with Hazuki and being the one to cost her team the win was expected from a mile away and didn't hurt it one bit. Iroha and Iwatani were having the time of their lives together as a team and we love that for them.
Tam Nakano vs. Saya Kamitani lived up to expectations. Not only did they do that but they left the classic style of a Nakano defense and met somewhere in the middle as to what a Kamitani defense will be moving forward. One thing was apparent from the start that made this match great — Kamitani's confidence. Never has "The Golden Phoenix" understood herself more and believed in herself more than this match. She looked inspired, determined, and had a will that would not be broken. The Poisonrana off the ropes to Nakano was jaw-dropping but Kamitani's absurd athleticism and strength showed when she rolled through for a school-boy pin on Nakano before deadlifting her up and dropping her with a back suplex. It was one hell of a display before her picture-perfect Phoenix Splash that won her the match and solidified her as Stardom's present and the Wonder of Stardom Champion. A fantastic match.
The thoughts about Utami Hayashishita vs. Syuri will be saved for Match of the Week but to say they managed to live up to the ridiculous expectations would be an understatement. What these two in a professional wrestling ring together is simply incredible.
MATCH OF THE WEEK: Utami Hayashishita (c) vs. Syuri for the World of Stardom Championship (Stardom Dream Queendom, 12/29/21)
Asking two wrestlers to try and top a match that has been called one of the all-time classics is asking a lot. Putting those two wrestlers in the main event of the first time you run an event like Ryogoku Sumo Hall and you only put more pressure on them. Yet, somehow, Utami Hayashishita and Syuri were able to put together another instant classic in an effort to put Stardom on the map that much more. While I am someone who still prefers the first match between these two, this one wasn't too far behind and had an ending that was the perfect culmination of this feud. We watched as Hayashishita hunted for answers to put Syuri away. We witnessed Syuri bring out a brand new move to do what Hayashishita could not — win the match.
It was a story of finding that one move that the other couldn't get out of. Syuri was the one who hit that move and capitalized, winning the World of Stardom Championship in one of the best matches the entire year. The punishment that they experienced was second to none because this was about achieving destiny. Hayashishita's attempt to reach Io Shirai's record did not happen this time around, but Syuri's promise to her mother was achieved. That makes this all the more magical.
A must-see match for all pro wrestling fans as two of the best created one of the best all year long.
HONORABLE MENTIONS:
Starlight Kid (c) vs. AZM vs. Koguma for the High-Speed Championship (Stardom Dream Queendom, 12/29/21)

Giulia vs. Konami (Stardom Dream Queendom, 12/29/21)

Tam Nakano (c) vs. Saya Kamitani for the Wonder of Stardom Championship (Stardom Dream Queendom, 12/29/21)

Ryo Mizunami (c) vs. Arisa Nakajima for the Beyond The Sea Championship (SEAdLINNNG Final Battle, 12/29/21)
JOSHI WRESTLERS OF THE WEEK: Saya Kamitani & Syuri (Stardom)
The landscape has dramatically changed in Stardom. After a nine-month run of both Utami Hayashishita and Tam Nakano at the tippy top of Stardom, their reigns came to an end that night. Saya Kamitani and Syuri got a second chance at the former champions and did not miss this time around. As I wrote prior, Kamitani's confidence was glowing off of her from her entrance to when she finally held the Wonder of Stardom Championship. She pulled out everything in her arsenal from Poisonranas to the Star Crusher and finally that dazzling Phoenix Splash. It took everything out of her to win. Nakano was seconds away after hitting a Violet Screwdriver and the Twilight Dream, but Kamitani's leg being on the rope would be the save she needed to get her moment.
Then there's Syuri, who brought it all to Hayashishita and then some to win. Buzzsaw Kick, Figure Four, and even the Ryuen. The bag was empty, or so we thought. Then she brought out a One-Winged Angel version of the Ryuen, dropping Hayashishita down to the mat and ending the historic reign just like that. Syuri had the year. Each high-profile match she had was can't miss and those that weren't considered high profile ended up being must-see anyways. 2021 ending with Syuri as the World of Stardom Champion was the right decision and presents a year in 2022 that will potentially be even better than 2021 for Stardom.
These two will lead Stardom into the next big step and they're more than ready to do so.
LOOKING AHEAD
Here's what to look forward to this week:
1/3
Stardom in Shinjuku (Notable: Giulia, X & XX vs. Tam Nakano, Unagi Sayaka & Mai Sakurai)
1/4
TJPW Korakuen (Notable: Miyu Yamashita vs. Mizuki)