Welcome! This is a weekly insight into the world of joshi pro wrestling, discussing the shows, the best matches to watch, what wrestler(s) stood out, and a look ahead at what's to come. It goes hand-in-hand with the Five Star Joshi Podcast, which you can listen to every Friday on the Fight Game Media Network!
---
THOUGHTS OF THE WEEK
To say a lot happened in joshi pro wrestling this week would be an understatement.
As discussed in last week's column, the number of major shows this week including Stardom's Tokyo Super Wars, Sendai Girls' Big Show, and Ice Ribbon's Sweet November made for a big week. But the biggest news on the joshi scene outdoes all of those matches as Ice Ribbon has announced the departures of multiple roster members including former ICExInfinity Champion Suzu Suzuki, current tag team champion Risa Sera, and Thekla. Add in the other names of Kurumi Hiiragi, Mochi Miyagi, and Akane Fujita, it allows you to paint a picture that this isn't great for Ice Ribbon Maya Yukihi will become a freelancer at the beginning of 2022 also but has said she will continue to compete in the promotion. Suzuki, Sera, Hiiragi, Miyagi, and Fujita will be forming a deathmatch unit by the name of Prominence. 
All of this makes up one of the major blows to a joshi wrestling promotion this year. It's safe to say that the exit of young phenom Suzu Suzuki will be the one that hurts the most, as many expected her to take over as the promotions next ace sooner rather than later. Suzuki, 18, experienced a hardcore match trial series in Ice Ribbon throughout this year as she showed it was a passion of hers but it is clear that the passion was stronger than maybe anyone had thought. While nothing is official yet when it comes to Prominence, it seems as though they will be a group that participates in deathmatch promotions like FREEDOMS and BJW, having their own single shows from time to time as well. Plenty remains to be seen but we do know that at Ice Ribbon's RibbonMania show, Tsukushi Haruka will be defending her ICExInfinity Championship against Ram Kaichow. At least there's some direction for now.
Other places in the world of joshi wrestling featured another great Stardom pay-per-view as Tokyo Super Wars highlighted by Utami Hayashishita vs. Maika in the main event. Stardom also held a press conference for Osaka Super Wars in December, which by all accounts will see Momo Watanabe or Starlight Kid switch factions in the main event. A major deal for anyone following Stardom for any amount of time. Expect that to be discussed more as the event draws closer.
Sendai Girls' Big Show finished with a surprise as Chihiro Hashimoto and Takumi Iroha wrestled to a 30-minute draw for the Sendai Girls World Championship. Seeing that the match was over a year in the making, there's no clue as to what the future holds for the Sendai Girls vs. Marvelous feud moving forward as this always looked to be the end.
MATCH OF THE WEEK: Utami Hayashishita (c) vs. Maika for the World of Stardom Championship (Stardom Tokyo Super Wars, 11/27/21)
Utami Hayashishita vs. Maika completed their trilogy of matches this year and while they are not up to the levels of all-time trilogies, they did manage to put on a show and give something different every time out. Their first back in January was about Maika proving that she was on the main event level and Hayashishita's title reign was going to be a special one. The second to kick off the 5 STAR Grand Prix saw Maika pick up the win in a fight that felt like an epic sprint. Finally, this one right here may have been better than the rest of the story that was being told. Maika is one of few to get the best of Hayashishita at any time this year, making this match more interesting than maybe anyone would have expected.
The way that these two wrestle with powerful styles makes for one of the more interesting battles no matter how many times we see it. One of the main highlights in this one was Hayashishita and Maika trading clotheslines, hitting each other harder and harder before Maika was able to get the crushing blow. Then they decided to trade again, but this time exchanging suplexes. Hayashishita utilized her version on the second rope but Maika matched with her signature version, crumbling both of them down to the mat from the top.
As they both lied there looking for more, it would soon become evident that Maika was not going to have enough to keep up. In the closing moments, Maika attempted to hit another lariat but it didn't affect the champion in the slightest as she stared down at a tired and nearly defeated challenger. Hayashishita would finish Maika off via BT Bomb to conclude their trilogy of matches with what felt to be the best.
There are plenty of fans who may have not been thrilled by another drama-less Hayashishista defense with her match against Syuri on the horizon, but this was another example as to why she's been the best champion in all of wrestling for 2021.
HONORABLE MENTIONS
Syuri (c) vs. Konami for the World of Stardom Championship Match Contract and SWA World Championship in a UWF Rules Match (Stardom Tokyo Super Wars, 11/27/21)
Tsukushi Haruka (c) vs. Suzu Suzuki for the ICExINFINITY Championship (Ice Ribbon Sweet November, 11/28/21)
JOSHI WRESTLER OF THE WEEK: Utami Hayashishita (Stardom)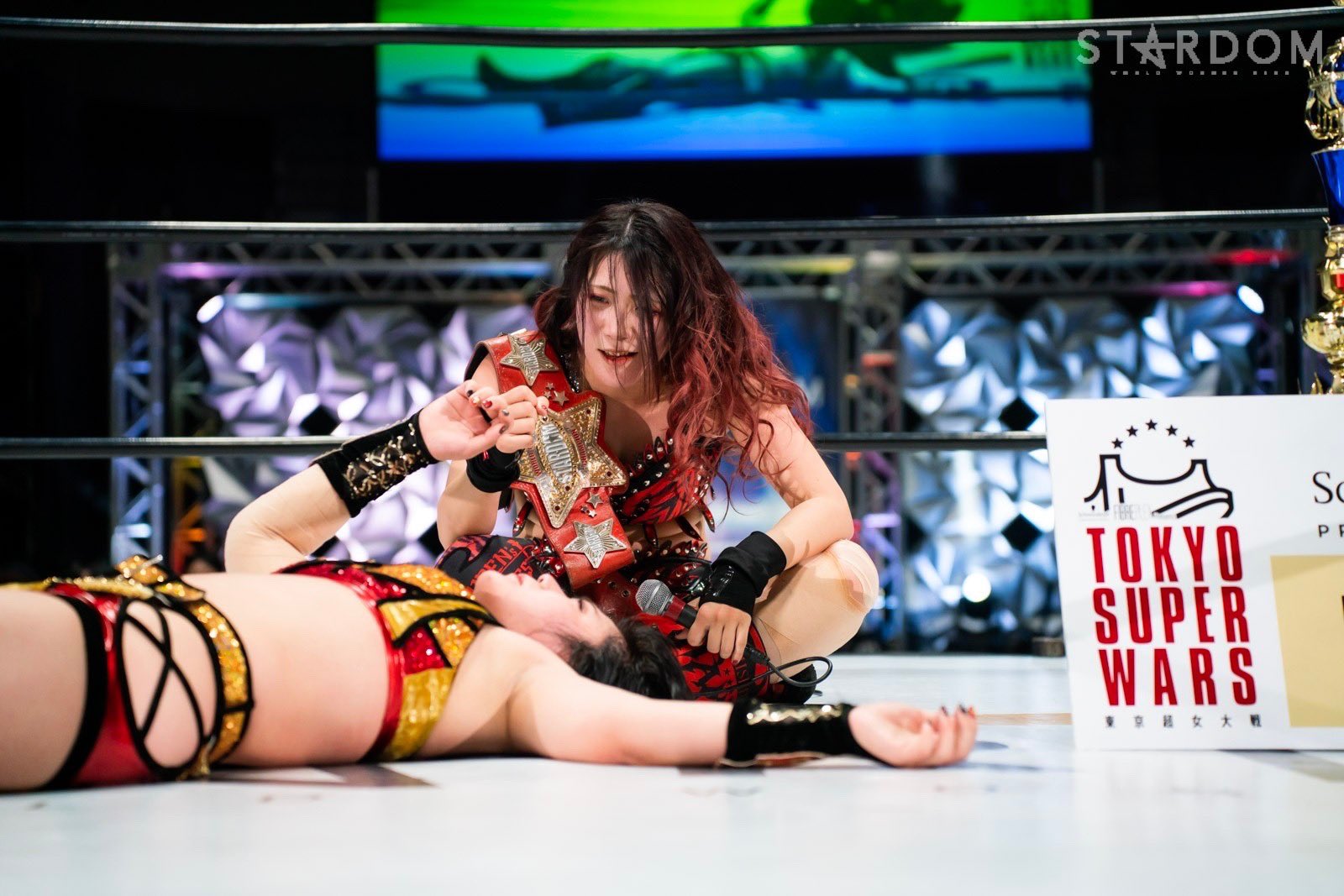 It was one of the tougher weeks to pick a "Joshi of the Week" but after some thought, the only answer has to be Utami Hayashishita. Already achieving the impressive feat of being World of Stardom Champion for a year, she now continues to draw closer to the Io Shirai record of successful defenses at 14. Her win over Maika marked number nine overall and felt to be one that showed a version of "The Red Queen" that not even Syuri can stop. 
At Stardom Dream Queendom, she will have the defense that defines her title reign. Not being able to defeat Syuri in her prior challenge makes this match that much more important for Hayashishita. A title reign that has been tremendous always needs that signature win to make it legendary. Defeating Syuri would be that. As the wrestling world enters December, Hayashishita is at the top of many lists when it comes to wrestler of the year and her match with Syuri on the 29th should allow her to solidify it. 
The performance against Maika furthers the notion that she is the "Final Boss" of Stardom. The moment she threw her signature rose at Giulia before her match also felt like a giveaway that she can and will get through Syuri, preparing to take on Giulia down the road. There's no definite that this is the direction they take, but Hayashishita has been on the run of a lifetime and she's only getting started.
LOOKING AHEAD
Here are the notable shows to look forward to this week:
12/4
Stardom at Shinjuku FACE (Utami Hayashishita & AZM vs. Syuri & Natsupoi)
Ice Ribbon 1162
TJPW at Shinjuku FACE (International Princess Championship Number One Contender's Battle Royal)
12/5
PURE-J (Hanako Nakamori vs. Riko Kaiju)
Pro Wrestling WAVE KARIYA (Maria vs. Itsuki Aoki)
12/10
TJPW INSPIRATION (Yuka Sakazaki & Mizuki vs. SAKI & Yuna Mizumori)
Marvelous at Shinkiba 1st Ring