Five Star Joshi || All respect for Nanae Takahashi
Welcome! This is a weekly insight into the world of joshi pro wrestling, discussing the shows, the best matches to watch, what wrestler(s) stood out, and a look ahead at what's to come. It goes hand-in-hand with the Five Star Joshi Podcast, which you can listen to every Friday on Fight Game Media Network +!
---
THOUGHTS OF THE WEEK
Depression is something that anyone can deal with at any time in their life. Mental health is no matter to overlook and this week, one of the biggest names in joshi wrestling revealed that she has been dealing with it since 2017. 
That name is Nanae Takahashi, who will be stepping down from her role as president in SEAdLINNNG at the conclusion of the year, becoming a freelance wrestler. The courage that it takes to reveal something so personal and difficult to deal with should only be met with respect and applause, which is what Takahashi deserves right now. After dealing with injuries over the past few years as well, Takahashi should get to do whatever makes her feel better in the long term. In terms of her future in pro wrestling, the expectation should be her controlling her dates a bit more and not having to feel as though she must be on every SEAdLINNNG show. We wish her nothing but the best. 
Other places in joshi have been on the build. Stardom has Osaka Super Wars coming up Saturday and Stardom Dream Queendom in less than two weeks, TJPW is working towards their Jan. 4, 2022 show at Korakuen Hall, and SAKI of Actwres girl'Z revealed that she will continue Colors as a sub-group moving forward. The last couple of weeks are sure to be newsworthy and filled with some great action along the way.
MATCH OF THE WEEK: Leon (c) vs. Miyuki Takase for the PURE-J Openweight Championship (Actwres girl'Z Act at Korakuen Hall, 12/13/21)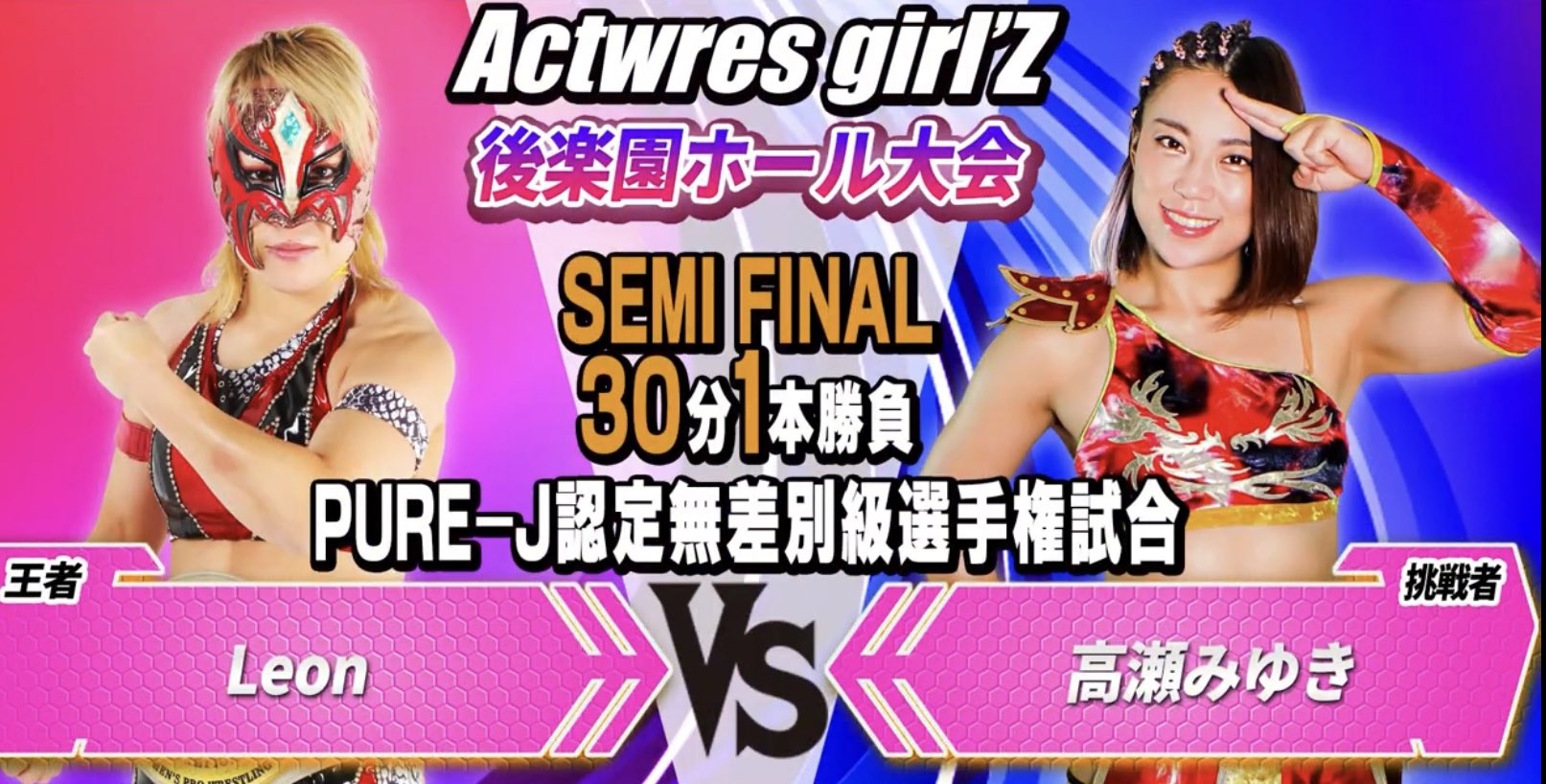 The best way for someone to get back into the swing of things is a title match against one of the best the independent joshi scene has to offer. Leon has been a great PURE-J Openweight Champion and the challenge of a returning Miyuki Takase proved to be a title reign defining match in itself. The mixture of brutal chops, thumping forearms, and late match intensity made this one of the best matches of the month. Takase not only looked as if she didn't lose a step but gained one while recovering from injury. Leon took tons of punishment in this slugfest, wearing everything Takase handed her and giving it right back in her own way. There was a gnarly headbutt that seemingly knocked Leon out but she was able to save herself and keep pushing forward.
The closing of the match was that much more impressive as Leon would roll out of a Small Package attempt by Takase to simply deadlift her for a Brainbuster in the middle of the ring. An incredible effort from the challenger and even better defense for the champion, Leon.
Honorable Mentions
Hazuki & Koguma vs. Unagi Sayaka & Tam Nakano (Stardom in Chiba, 12/11/21)

Utami Hayashishita & Tam Nakano vs. Syuri & Saya Kamitani (Stardom in Takadanobaba, 12/12/21)
JOSHI WRESTLER OF THE WEEK: Miyuki Takase (Actwres girl'Z)
Miyuki Takase is one of the best wrestlers in Joshi that isn't signed to one of the major promotions. And well soon enough, she won't be signed anywhere. Possibly the best wrestler of Actwres girl'Z, she revealed this week that once AWG shuts its doors, she will be sticking to professional wrestling as a freelancer. This also comes the same week that she made her triumphant return to injury and had what was billed as the "Match of the Week" with Leon. Takase's ability has shined throughout the year, whether it was her Catch The WAVE run that saw her win the tournament or have "Match of the Year" candidates with Mio Momono and Sakura Hirota, she has shown how special she can be.
Takase is one of the young shining stars in joshi that those who haven't heard of her will soon enough. Everything she does only seems to show how great she is quickly becoming. 2022 should very well be a year where Takase shines even brighter.
LOOKING AHEAD
Here's what to look forward to this week:
12/18
Stardom Osaka Super Wars (Notable: Queen's Quest vs. Oedo Tai in a Loser Leaves Unit Captain Falls Match)
TJPW in Nagoya (Notable: Miyu Yamashita vs. Yuki Arai)
Ice Ribbon Yokohama Ribbon 2021 (Notable: Tsukushi Haruka, Tsukasa Fujimoto & Totoro Satsuki vs Maya Yukihi, Rina Yamashita & Ram Kaichow
Sendai Girls (Notable: Mika Iwata vs. Itsuki Aoki)
12/19