Five Star Joshi || TJPW and Ice Ribbon prove the future is now
Welcome! This is a weekly insight into the world of joshi pro wrestling, discussing the shows, the best matches to watch, what wrestler(s) stood out, and a look ahead at what's to come. It goes hand-in-hand with the Five Star Joshi Podcast, which you can listen to every Friday on the Fight Game Media Network!
THOUGHTS OF THE WEEK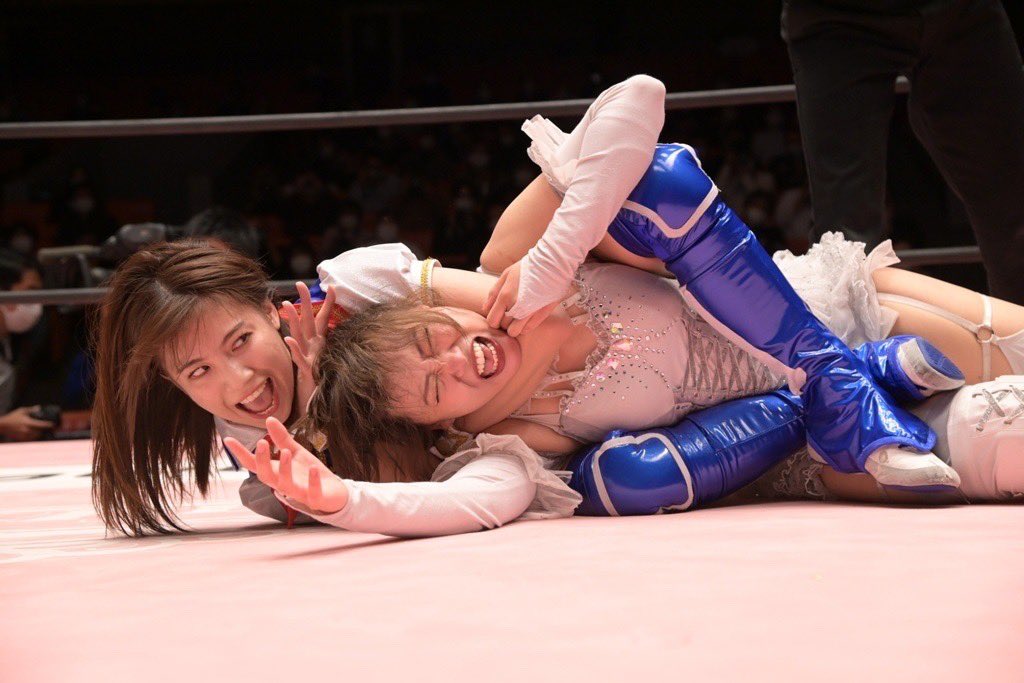 Joshi wrestling fans are in the midst of one of the best weeks in terms of action they will see. It feels as though every promotion is running some sort of major show that has can't miss matches on the card. TJPW delivered one of their best showings of the year with their ALL RISE event, allowing the top stars of their company to headline and highlight themselves wonderfully. Whether it was Yuki Arai furthering the fact that she is destined to be great in pro wrestling against former Princess of Princess Champion Rika Tatsumi or Hikari Noa and Miu Watanabe displaying why they are ready to take the next step, it was a special night.
Then, there was the Ice Ribbon 15th Anniversary that finally aired, allowing Joshi fans far and wide to appreciate what went down. As detailed in our Joshi Wrestler of the Week last week, Tsukushi Haruka won the ICExInfinity Championship for the first time in six years when she was able to take down Tsukasa Fujimoto in one of the best matches you will see this year. The tag team title match in the semi-main event solidified why tag team wrestling can be as good as anything on the card as Azure Revolution (Maya Yukihi and Risa Sera) remained at the top of the conversation in terms of the tag team of the year.
With this weekend featuring Stardom's Tokyo Super Wars and Sendai Girls' BIG SHOW, the greatness of joshi is not stopping. Utami Hayashishita will continue her historic World of Stardom Championship reign as she defends against Maika for the second time this year in the main event of Tokyo Super Wars. And in the main event of BIG SHOW, a match that is a year in the making will happen as Takumi Iroha challenges Chihiro Hashimoto for the Sendai Girls World Championship.
The year is closing out with a bang and there's still a month to go. There's no better time to jump into joshi than right now.
MATCH OF THE WEEK: Tsukasa Fujimoto (c) vs. Tsukushi Haruka for the ICExInfinity Championship (Ice Ribbon 15th Anniversary, 11/13/21, Released: 11/20/21)
Professional wrestling can be at its best without a compelling storyline. Competitors can just go head-to-head with something to prove. But when you can ensure that the story will make every move matter that much more, a wrestling match can be special. That's what we saw in this week's Match of the Week as the ICExInfinity Championship match between Tsukasa Fujimoto and Tsukushi Haruka captured every bit of what an ideal main event title match should be. Haruka's story of getting back to the title after not holding it for six years was enough to draw any fan of hers in but it is what these two competitors told in the ring that can make any fan a joshi fan.
The beautiful yet sadistic violence of two heads colliding to hear a breathtaking thump as skulls mash shouldn't be as entertaining as it is, but Fujimoto and Haruka utilized that to show winning the title was the only thing that mattered. The moment of the match would be the kick out of Fujimoto's Japanese Ocean Cyclone Suplex for Haruka, as it seemed she would fall once again to Fujimoto. Prestige and history surround that move, making it a moment that should not be overlooked by anyone. Haruka would hit her Tiger Suplex to win the match and solidify her journey back to the top.
Emotional? Yes. Did it deliver? Yes. This match can best be called the conclusion to one of the best title reigns of 2021 and the end of a journey that has Tsukushi Haruka on top as ICExInfinity Champion.
HONORABLE MENTIONS
Maya Yukihi & Risa Sera (c) vs. Suzu Suzuki & Saori Anou for the International Ribbon Tag Team Titles (Ice Ribbon 15th Anniversary, 11/13/21, Released: 11/20/21)

DASH Chisako & Mika Iwata vs. ASUKA & Saki Akai (Sendai Girls in Korakuen Hall, 11/23/21)

Momo Watanabe, AZM & Utami Hayashishita vs. Mayu Iwatani, Hazuki & Koguma (Stardom in Osaka, 11/23/21)

Rika Tatsumi vs. Yuki Arai (TJPW ALL RISE, 11/25/21)
Hikari Noa (c) vs. Miu Watanabe for the International Princess Championship (TJPW ALL RISE, 11/25/21)
Yuka Sakazaki & Mizuki (c) vs. Miyu Yamashita & Maki Itoh for the Princess Tag Team Titles (TJPW ALL RISE, 11/25/21)
JOSHI WRESTLER OF THE WEEK: Mizuki (TJPW)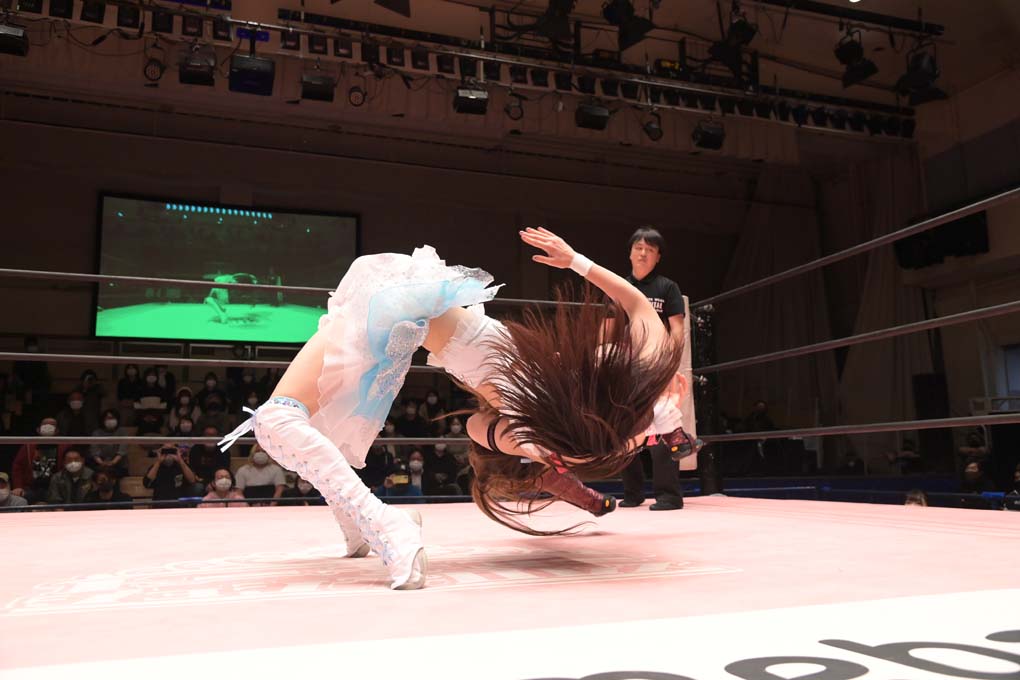 Mizuki has never won the Princess of Princess Championship but following her performance at TJPW's ALL RISE show, it may finally be happening soon. She wins Joshi of the Week due to her top-notch performance in the Princess Tag Team Championship defense against Miyu Yamashita and Maki Itoh. Herself and Yuka Sakazaki were able to secure their first successful defense when Mizuki hit two Cutie Specials on Miyu Yamashita to win the match. Not only was the match a fantastic main event but Yamashita was stunned by Mizuki in the closing minutes as it was a sequence worth going out of your way to see. Mizuki showed that she still has the number of Yamashita with the win and would lay down the challenge to face Yamashita for her championship on January 4.
Mizuki is one of TJPW's top talents for a reason and her win here means that we might be closing in on her time to be at the top of TJPW.
LOOKING AHEAD
Here are the notable shows to look forward to this week:
11/27
Stardom Tokyo Super Wars (Notable: Utami Hayashishita (c) vs. Maika)
11/28
Sendai Girls BIG SHOW (Notable: Chihiro Hashimoto vs. Takumi Iroha)
Ice Ribbon Sweet November (Notable: Tsukushi Haruka vs. Suzu Suzuki)
Stardom in Fukushima (Notable: Syuri, Himeka, Maika & Natsupoi vs. Mayu Iwatani, Hazuki, Koguma & Hanan)
11/29
Marvelous Shinkiba (Notable: Itsuki Aoki & Rin Kadokura vs. Maria & ASUKA)