KSW 54 results:
Mateusz Gamrot  d.  Marian Ziółkowski (Unanimous)
Izuagbe Ugonoh  d.  Quentin Domingos TKO, 2:22 R1
Michał Kita d. Michał Andryszak KO, 2:59 R1
Maciej Kazieczko d.  Karlo Caput TKO, 4:30 R3
Paweł Polityło d. Bogdan Barbu (Unanimous)
Łukasz Rajewski d. Bartłomiej Kopera (Split)
Kacper Koziorzębski d. Adam Niedźwiedź KO/TKO, 2:27 R2
Sebastian Rajewski d. Armen Stepanyan (Unanimous)
1)  Sebastian Rajewski  def  Armen Stepanyan via unanimous decision
This was a hell of an opener. Rajewski's kickboxing was excellent. He spent most of the first round hunting for the KO. He dominated the second round, landing big shots, including a huge wheel kick into Stepanyan's face before the bell.
Rajewski's confidence continued building into round three, but Stepanyan really hung in there. He's very tough. Some of his kicks landed, but Rajewski was clearly in control throughout this fight. Stepanyan looked exhausted in the last minutes of this. The conditioning some of these guys have is unreal.
2) Kacper Koziorzębski  def  Adam Niedźwiedź via TKO, 2:27 R2
Kacper Koziorzebski put away Adam Niedźwiedź via ref stoppage in round three of this, and it was a strong win for the debuting Koziorzebski.
Niedźwiedź with used a quick takedown early. He landed an illegal knee into Kacper's face, who was crouched over against the cage. It was accidental; after a brief time out, the action was back on.
Koziorzebski's stuck to his strategy and never really let up with the low kicks, which did serious damage to Niedźwiedź. Later, Niedźwiedź missed a rolling middle kick and Koziorzebski capitalized on it. Niedźwiedź made him pay for the miss for the rest of the round.
The final minutes saw Koziorzebski take Niedźwiedź to the mat again, again Koziorzebski pinning Niedźwiedź against the cage. When the ref called for both fighters to return to the center, Niedźwiedź couldn't make it to his feet, so Koziorzebski wins via ref stoppage.
3) Łukasz Rajewski  def  Bartłomiej Kopera via split decision
Rajewski's ground control in round three might have done it for the judges, but this was a really close one. Lukasz is brother of Sebastian Rajewski, who fought in the first tonight's first match
Both were throwing flurries of small bombs just two minutes into this. L. Rajewski landed more shots, whereas Kopera's were a bit more haphazard.
Kopera later caught L. Rajewski in a heel hook after he took him to the mat. He made a quick transition from back control to half-guard and back again, and hunted for the RNC until L. Rajewski shook off Kopera's hooks, and made a brilliant escape. Both were back on their feet, but Kopera immediately shot in for a double-leg but didn't get it. By the end, the English announce team scored it 29-28 in favor of Kopera.
Kopera escapes and throws one last high kick but too late in the round. Announcers scored it 29-28 in favor of Kopera. Decision pending. #KSW54 https://t.co/Kjrnq6NJCR

— Justin M Knipper (@justinmknipper) August 29, 2020
4) Paweł Polityło  def  Bogdan Barbu via unanimous decision
Very fast kickboxing from both at the top of this. Polityło was on top early in the first round and tore Barbu up and down with elbows and kneesrikes, but landed an accidental low blow in the flurry. After a timeout, Polityło received a one-point deduction for the illegal blow, but he stayed aggressive with his strikes and takedowns.
Barbu was pinned against the cage for much of this bout. This felt like it was over halfway through the second round, which it more or less was: Polityło won via unanimous decision.
#KSW54 Official Scorecard:
Pawel Politylo def. Bogdan Barbu via unanimous decision (29-27 x 3). pic.twitter.com/bZ0M7UzLii

— KSW (@KSW_MMA) August 29, 2020
5) Maciej Kazieczko  def  Karlo Caput via TKO, 4:30 R3
Kazieczko doused Caput with punches on the ground as round two finished. Some looked to do serious damage.
Ten seconds into round three and Kazieczko had Caput on the ground again, repeating his strategy from earlier and dominating Caput from top position.
Caput looked like he was about to pass out from exhaustion by the end of this, but then went for a last-ditch offensive and locked on a D'arce choke, but without much power behind it; Kazieczko escaped and went back to his ground-and-pound strategy.
The finish saw Kazieczko land a massive punch while Caput was on the ground, then followed up with  more until the referee stopped the bout with thirty seconds left. Kazieczko scores the win via TKO.
6) Michał Kita  def  Michał Andryszak via KO/TKO, 2:59 R1
Andryszak submitted Kita in short fashion in their first match with each other three years ago.

Kita looked like a different fighter compared with three years ago. The 40-year old Kita avenged his loss to Andryszak with a shocking first-round KO.
Kita gets his vengeance over Andryszak!! First round stoppage!! Watch out KSW heavyweights, Kita is BACK!! #KSW54 pic.twitter.com/E6GCkT3M6o

— KSW (@KSW_MMA) August 29, 2020
7) Izuagbe Ugonoh  def  Quentin Domingos via TKO, 2:22 R1
Ugonoh won his MMA debut over Domingos in what looked to be a brutal leg kick followed by grounded strikes. The replay showed Ugonoh's low kick demolishing Domingos' leg.
Domingos had trouble standing up and was visibly in pain after the match. "Izu" displaying uncanny power in his first-ever MMA bout.

Former IBF Mediterranean heavyweight champion Izu Ugonoh (yep, a real thing) just won his MMA debut by low kick. #KSW54 pic.twitter.com/RiABxpUr15

— caposa (@Grabaka_Hitman) August 29, 2020
8) Mateusz Gamrot (c) def Marian Ziółkowski via unanimous decision to retain the KSW Lightweight Championship
Ziółkowski replaced the injured Shamil Musaev in tonight's main event.
Tentative boxing from both at the start of round one. Gamrot landed one good straight body shot early. Gamrot took Ziółkowski down with forty-five seconds left in the round.
The crowd started heating up, but it didn't deter Ziółkowski, who defended well.

Ziółkowski threw nice jabs and is somewhat able to neutralize Gamrot. His footwork and defensive was herky-jerky and made it nearly impossible for Gamrot to do serious damage.
Gamrot stayed aggressive in round two, forcing Ziółkowski against cage, pressuring him to the mat with force in lieu of a takedown. He finally scored a double leg in the final seconds of the round and  immediately locked on a heel hook with seconds to go. Ziółkowski escaped.
Ziółkowski's striking style is unorthodox and made the fight tedious for Gamrot, who struggled to land anything substantial. There was a quick stop midway through this for an accidental eye poke from Gamrot. Something similar happened in his fight with Norman Parke at KSW 53.

Gamrot continued finding ways to take Ziółkowski to the mat and got more successful with it as Ziółkowski's gas tank ran out . Back against the cage, he laid in hard knee shots while Ziółkowski struggled to break Gamrot's waistlock.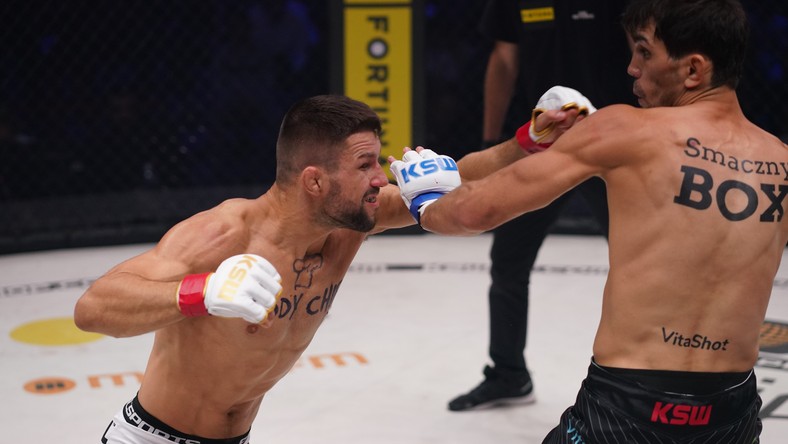 Ziółkowski's defense stayed strong, though it also didn't lead him to land any substantial strikes while standing apart from a few straights and jabs.

Gamrot used an aggressive double leg takedown at the end of the fourth. At the top of the fifth, he somehow willed the single leg takedown into existence. Sheer force. The Warsaw crowd was loud behind "Gamer," who was clearly getting frustrated with Ziółkowski's jerky defense.
Before the finish, Gamrot literally dragged Ziółkowski from the cage to the middle of the mat with a wheelbarrow yank, powering Ziółkowski back to the center. I don't think I've ever seen that before.
Gamrot scored the win with a unanimous judges' decision. He's now 17–0 in MMA.
In his post-match promo, double-champion Gamrot seemed suggested he's done with KSW and is heading elsewhere in the future.