The Raw Rerun – Triple H Says Yes
Photo via @x2375
This was one of the most surreal Raws ever. You had Hulk Hogan. You had LL Cool J. They quoted Bill Simmons and Grantland. And Daniel Bryan hijacked Raw.
Triple H Says Yes
Early in the show, Triple H and Stephanie came out and demanded that Daniel Bryan apologize to them for kicking Triple H in the face last week.
At the top of the 10PM hour, Bryan came out and said he not only wouldn't apologize, but he was going to hijack, or occupy Raw. He invited members of the Yes Movement to join the ring with him in support and said they wouldn't leave unless Triple H accepted Daniel Bryan's challenge.
When they went to commercial, there seemed to be about 20 fans in Daniel Bryan t-shirts in the ring chanting yes. And I don't know if the Memphis crowd was necessarily in on the deal no matter how hard Bryan tried.
When they came back from commercial, there looked to be about 100 people overall both in the ring and just outside the ring all chanting. This is where it got loud. Triple H and Stephanie came in and told Bryan and the fans that he was giving them 30 seconds to leave the ring. He also made fun of the fat guy in the front. They sent two security guards down to the ring, but they decided not to because there were too many people. They sent Damian Sandow out for his match but that didn't work.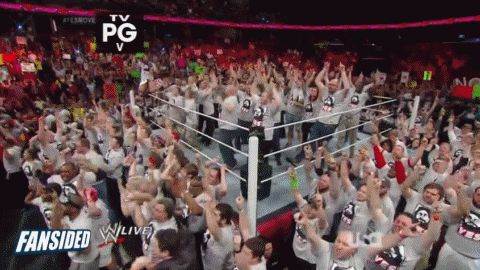 Then Triple H finally accepted Bryan's challenge, but before he did, he said he did everything he did to Bryan to take care of him and help him. And at WrestleMania he will do everything he can to end all of this. Bryan said that he forgot one thing and that was if he beats Triple H at Mania, he wants to be added to the WWE World Title match. Triple H angrily accepted and had to be held back by security.
It didn't start hot, but it ended hot. It was also super long and I wonder if it holds the rating.
Bryan also tagged with Big Show against Batista and Randy Orton and scored the pin fall on Orton to win the match.
Andre The Giant Memorial Battle Royal
At the top of the show Hulk Hogan came out and announced a new wrinkle to WrestleMania XXX. After talking about his favorite moments at WrestleMania (including facing a "jacked" Ultimate Warrior) he talked about pressing Andre The Giant over his head and slamming him. He then presented the idea for a match at WrestleMania to celebrate Andre. Sounds like a match for Big Show.
At that point, John Cena came out to celebrate Hogan and not get booed. Well, he still got booed a bit. After putting over Hogan, he wanted to throw his hat into the ring to join the battle royal. Yeah right. Then the Wyatts came out. Bray cut a promo where he called himself a god. Cena called him out on the promo before we the show went to commercial and when it came back, Cena was in the ring with Rowan.
Cena beat him with Hogan at ringside and in his corner. Cena then challenged Bray to a match at WrestleMania XXX. Late in the show, Bray cut a promo to accept the challenge for WrestleMania XXX.
The Undertaker And Paul Heyman
The Undertaker did his long entrance but before he was able to get started, Paul Heyman came out on the stage and said that people don't understand how big the Undertaker's streak is. He named off all the guys who didn't win that many WrestleMania matches in a row including Hulk Hogan and John Cena who only could get to 4-0. He put over the streak and told Taker not to face Brock Lesnar at WrestleMania XXX so that it wouldn't be broken.
Taker said that if Brock Lesnar shows up in New Orleans, he will rest in peace. It was a cool moment, but obviously overshadowed by the Bryan stuff.
Other tidbits
– The Usos beat Ryback and Curtis Axel while the New Age Outlaws were on commentary.
– Big E. beat Jack Swagger by roll up when Antonio Cesaro didn't interfere and Swagger was yelling at him. Zeb made them shake hands, but Cesaro crushed Swagger's hand.
– The Shield beat Cody Rhodes and Goldust after Kane tried to say that they weren't up to snuff. They wondered if Kane was just embarrassed after being pinned twice last week.
Rollins won by using the knee to the back of the head and driving it to the mat.
– Sheamus beat Christian in a Memphis Street Fight.
WWE made fans wait, but it seems to be worth it. The Daniel Bryan segment ended well.