State Of Japanese Pro Wrestling Oct '10 p2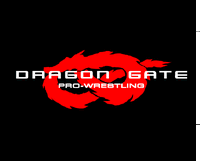 Dragon Gate
If ever there was a promotion with its house firmly in order it's Dragon Gate. Compared to the likes of New Japan and NOAH they're a tiny company, but only if your measuring sticks are things like number of employees, big sponsors, external funding etc. When it comes to ticket sales, popularity and global presence – Dragon Gate are right in line with them and in some cases ahead. They are doing A LOT of things right both in the ring and outside of it.
The product is top notch. If you go to a live show (as I did last month), you'll see the most jaw-dropping, incredible action you've ever seen before your eyes. If you watch the TV show, you'll see one of the most well produced, engaging and action packed hours of Pro Wrestling television ever. Yes, ever. They know exactly how to book for their fans and they create storylines which range from the hilarious to the emotional.
With guys like Shingo, Masaaki Mochizuki, YAMATO, CIMA and Open The Dream Gate Champion, Masato Yoshino they have what I consider far and away the most talented roster anywhere in 2010. There are no passengers here, everyone works to the high high standard that's drilled into them from training. I would say my top 20 matches of 2010 has more Dragon Gate presence than any other fed. Matches like Shingo vs. Hulk hair vs. hair, Mochizuki vs. YAMATO and Doi vs. YAMATO were all legitimate match of the year contenders.
Right now a unit shuffle may be on the horizon. The promotion consists of several stables and every so often there will be a big switch sparked by one or two guys changing allegiances. The spark right now is Naoki Tanisaki (a really great wrestler and character) turning on World-1 and taking a lead role in the dastardly Deep Drunkers. Tani now wants to kill W-1 off and will have a chance with an impending "losing faction must split" match.
There are two more big PPVs for them to build to in 2010. November in Osaka and December in Fukuoka. With that, the year will close and 2011 will have the impossible task of topping Dragon Gate's best year ever.